As a garden owner, you have certain responsibilities, and meeting these responsibilities requires a specific set of skills and tools. When taking care of the lawn, it is not clear which tool you must opt for, which can get very confusing if you have to choose between hedge shears and hedge trimmers.
What is the Difference?
The difference between hedge trimmers and hedge shears is that they have different designs entirely. Even though they are both used for cutting and trimming hedges, their functions vary based on their design. Shears are designed in the shape of larger scissors, whereas trimmers are longer with different lengths and are similar to a regular school scale.
Hedge Trimmers
Trimmers come in different lengths ranging from 6″ to 9″ and are ideal for giving your hedges the shape you want. Hedge trimmers are an ideal tool for gardening and make it very easy to trim any hedges that have overgrown. With these, you do not have to rely on a gardener, and you can maintain your garden yourself. They can be powered either by electricity or by gasoline. Plus, they vary in their length, price, and noise.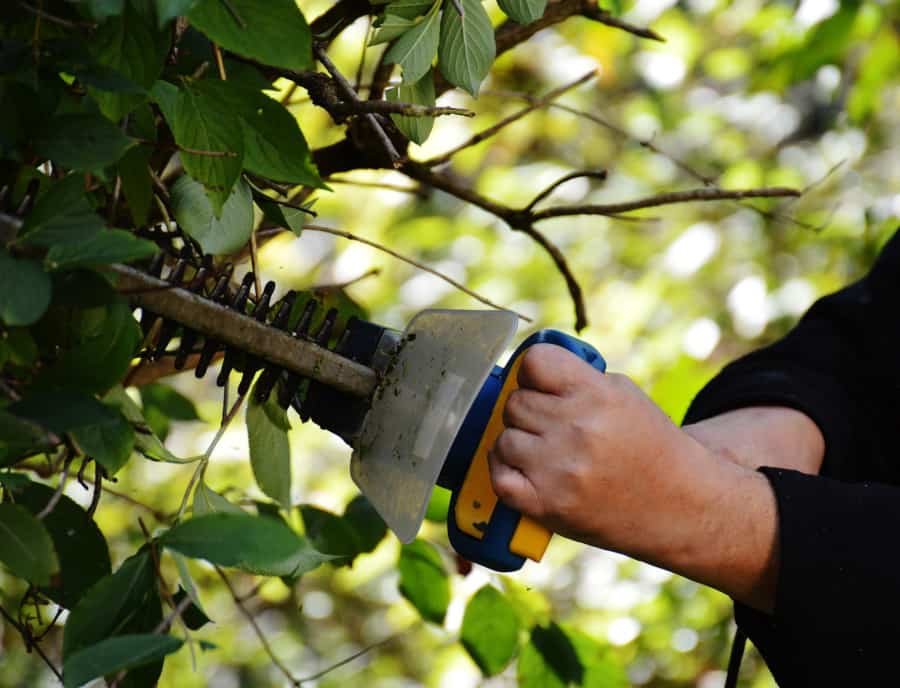 Electric: Corded or Cordless
When it comes to choosing between corded and cordless trimmers, both of them have their advantages and disadvantages. Most people prefer a cordless trimmer because no one likes it when a wire comes in the way or it isn't long enough, but they tend to oversee that cordless trimmers have a limited power supply. On the other hand, corded trimmers have no power supply restrictions, but the wire can be a nuisance to use.
The most significant advantage of corded trimmers is that you can rely on them to hold out for a long time due to the consistent electrical supply. You can trim the hedges without worrying about taking a break, and you do not have to stop and think about charging your battery.
Another reason to choose a corded trimmer is that they don't release any emissions at all. Since people nowadays have environmental awareness, no-emission is something they approve of. If you want something good for the environment and not worry about charging, a corded hedge trimmer is your friend.
However, when it comes to cordless trimmers, they are not only easy to use but hand-held and portable, too. With cordless trimmers, you do not have to worry about tripping over the cord. You can move around freely without worrying about the extension of the cord or staying close to the power outlet. Cordless trimmers need to be adequately charged, and some even show you the battery percentage. Even though they come with a limited power supply, some market models have better battery health and make a good deal.
When choosing between corded and cordless, both trimmers are excellent at getting the job done, but it all comes down to your personal preference.
Gasoline Powered
Gas-powered hedge trimmers are what you need if you need high power. Such trimmers can run through thick branches up to one inch thick. They are capable of cutting quicker than other trimmers. This swiftness makes it easier for you to finish the task at hand. Since gas-powered trimmers have no cords and need no outlets, they can easily be maneuvered into tricky spots.
They can be used easily in damp weather as well, and if you have large-scale hedge trimming waiting to be done, gasoline-powered trimmers can make an excellent investment.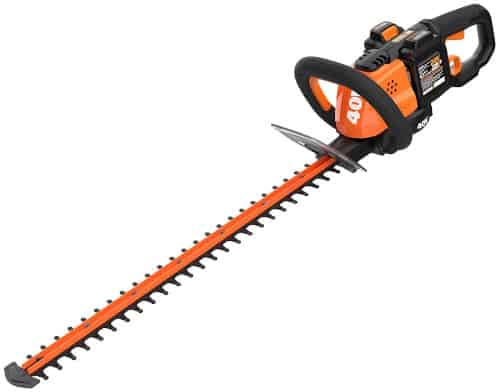 Price
When it comes to the pricing of hedge trimmers, the main thing you have to pay more for is greater convenience and high power. Most affordable hedge trimmers are lightweight models that are corded and lightweight. They are best for simple jobs and are as cheap as $50 and can be even lower than that.
However, when you factor in the convenience of use and opt for a cordless model, the minimum price goes up to $60 as the cordless variant makes it easier for you to trim hedges away from the power socket. Features such as long blades, higher power, and quicker charging time can increase the cost significantly and at the same time make your job easier. However, make sure you get the features you want to use so that you don't end up paying for unnecessary upgrades.
Time
The best part about these trimmers is their design. Since they have a large scale at various lengths, you can cut through thick branches swiftly. The trimming time also depends on the sharpness of the blade, whether it is cordless and charged to its full capacity, and how experienced you are at trimming. If the blade is blunt or the trimmer's battery health is not up to the mark, then trimming will take more time than usual. Furthermore, if you are a beginner, trimming will take some time to get used to, but in the long run, these trimmers will drastically reduce the time you spend on it.
Noise
Electric hedge trimmers are usually very quiet, while gas-powered ones are not. For this reason, it is a smart idea to invest in electric ones if noise is a concern and you do not want complaints from your neighbors.
However, if you do require a gas-powered trimmer, then you must also be ready to invest in earplugs or other forms of hearing protection cover. If you are concerned with the noise level of the trimmer you want to buy, then make sure you read user reviews or get in touch with the manufacturer to get a decibel level on what to expect.
Durability
If you want to buy a trimmer that you can depend on for years to come, you must check out the manufacturer. Machines like trimmers have plenty of parts that can break easily, and finding a brand with a good reputation will assure you of the durability. You can also check out the warranty provided on these trimmers since this will give you the peace of mind you need.
Furthermore, going an extra step and reading reviews will provide you an estimate of what to expect from the machine. You can also extend the life of your tool by maintaining them well.
Hedge Shears
Hedge shears are another tool that allows you to trim your hedges easily. These shears are like scissors but larger and designed for hedges. The sizes, prices, and styles for the shears vary along with their features as discussed below.
Manual Trimming
Shears give you a choice to opt for manual trimming. Now, even though manual trimming sounds boring in today's electronic world, it can be a good idea when dealing with hedges. As a beginner, trying to control an electric trimmer and angling it in the right way to give your messy, bushy hedge a precise shape can be surprisingly challenging. However, manual trimming allows you to control the shape and cut a leaf that's even slightly out of shape. If you want more control over your trimming, then manual shears are your best option. Just keep in mind that manual work requires a bit of strength and arm work!
Telescopic
A telescopic handle on hedge shears allows you to extend and contract the slider since it is adjustable. This allows wider cutting lengths and makes it easier to deal with a wider handle. Similarly, these shears also have better torque, which helps provide the user with better cutting power at the same amount of effort.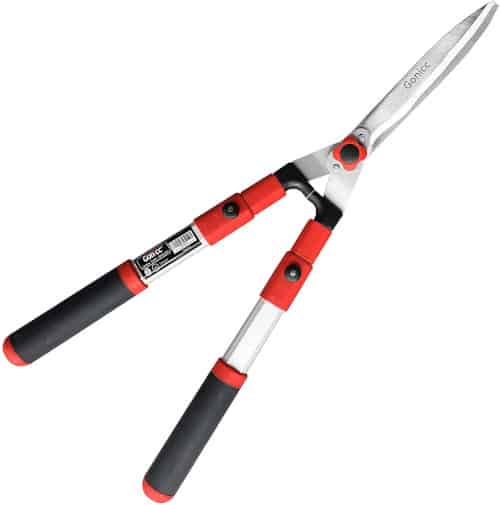 Even though telescopic handles work great and are very handy, they have their limitations. These handles are expensive, which may not be the best choice for beginners. They also have a large number of moving parts which means they need to be handled very carefully.
Wavy Blade Shears
Wavy blade shears have a contour in their profile, which creates subtle curves in the blade. This provides you with a biting and grinding feel rather than the clean sweep you get with straight blades. These shears are ideal for cutting thicker vegetation such as thicker vines and limbs.
Price
The quality of hedge shears and their price go hand in hand. If you are starting out with gardening, then there are plenty of budget-friendly yet good-quality shears available for you. With these affordable shears, you can hone your skills and become more competent and adept at gardening. The sooner you grasp the gardening concept, the faster you can move up a notch and invest in more expensive shears for your daily gardening.
Normal handle
Most handles present on the market are traditional. This means that they come with their specific set of shapes and lengths. Usually, these traditional handles are great for most gardening applications and are very affordable. This makes shears with a normal handle perfect for beginners. Since they do not have many moving parts, these shears are also very durable in the long run.
Time
Shears can be very time-consuming, and there is no doubt about that. These products require a lot of extensive manual labor and energy, and if you invest in them, you should be ready to work hard. However, with time, shears also provide you accurate precision and perfect cuts. If you don't mind putting in long hours and enjoy gardening, then hedge shears can be your best friend.
Conclusion
Before you opt for shears or trimmers, having a clear look at all their features is very important. You must also read reviews, gather feedback and then decide on what you are looking for. Both products have their pros and cons, and keeping them in mind will allow you to make a more informed decision.