With the arrival of spring, there is an increase in the growth of grasses and weeds. This translates into a constant effort of removing dandelions, wiping out weeds, etc. However, such chores become difficult to carry out if you are suffering from back or joint issues. This is where a stand-up weeder comes in. With a stand-up weed picker, weeding becomes fun rather than a daunting task. You will stop treating it like a chore; in fact, it might even become a garden hobby!
Step-By-Step Guide for Effective Weeding
We all know that weeds can be a nuisance, especially when temperatures start rising. They can ruin the neatness of your lawn and make it appear unkempt. You want to remove the weed, but at the same time, you also want to use a product that is both user-friendly and environment-friendly. This is why stand-up weeders are a great option; they can be used without bending over and they don't harm the environment.
To make sure you effectively remove weed, here's what you need to do:
Add a Natural Weed Killer
Place the Weed Picker
Stand on the Foot Platform
Pull the Handle
Push the Ejector Handle
Add a Natural Weed Killer
Combine a natural weed killer with a stand-up weeder. This makes the removal process much quicker. Make your natural weed killer using a gallon of white vinegar, a tablespoon of liquid dish soap, and a cup of salt.
Place the Weed Picker
Place your stand-up weeder in the center of the weed growth. Stainless claws will adeptly cut down the pesky weeds. Remember not to go too deep in the ground since that can damage the soil.
Stand on the Foot Platform
A standup weeder can also act as a dandelion puller tool. You need to stand on the foot platform so that the claws penetrate the ground.
You should know the type of weeds that have taken over your garden. Weeds are divided into different types, namely broadleaf, sedges and grasses, and if you know what kind it is, you will easily be able to figure out what technique to use.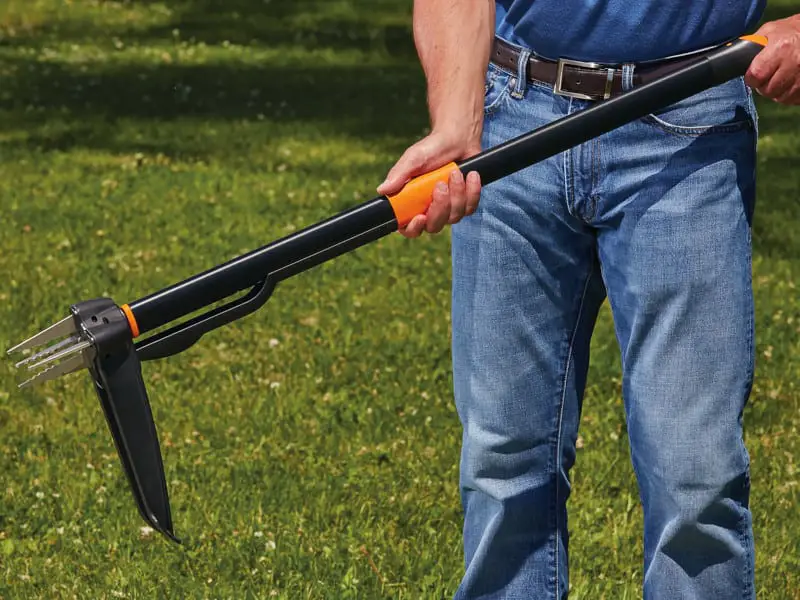 Pull the Handle
Pull the handles in a forward direction to help keep the blades intact. This will exert a force on the weeds and pull them out cleanly. Remember not to apply too much force as it can be quite harmful to the soil.
Push the Ejector Handle
The last step is to push the ejector handle and eject the weed that you just pulled out. You can collect the weeds in a large bag and dispose of them, or put it into the compost bin.
Advantage of Stand-up Weeders
You do not have to worry about bending over as you deweed. This can be quite uncomfortable, especially for individuals with back issues. Older people and people with arthritis and joint issues can make use of this beneficial product. Stand-up weeders also have better leverage; therefore, you can control them more easily.
The surface of a stand-up weeder is relatively easy to grip. The long shaft and ergonomic design add to the usability of the product. When it comes to weight, stand-up weeders are light and not bulky at all.
When you decide to use a standup-weeder, there is no need to use chemical pesticides, herbicides, etc. This item is a healthier solution for your garden as the use of chemicals can have side effects. Toxic weed killers can be harmful to insects and bees, and with a standup weeder, you don't have to worry about this.
Stand-up weeders are also more suitable for complex tasks, like when the soil becomes more compact. The serrated claws are quite firm at grabbing weeds without any hassle. They can remove thistles, dandelions, and numerous types of weeds.
The mechanism of stand-up weeders allows for easy ejection. Therefore, you don't have to struggle a lot. The structure is sturdy; therefore, you can trust the reliability of a stand-up weeder.
It is a more economical solution as it saves the cost of repeatedly having to buy pricey weed killers. Standup weeders can work for different soil types from compact to loose. When compared with the average weeder, a stand-up weeder carries out its job more efficiently and gives clean results. Plus, most stand-up weeders are resistant to rust and weather.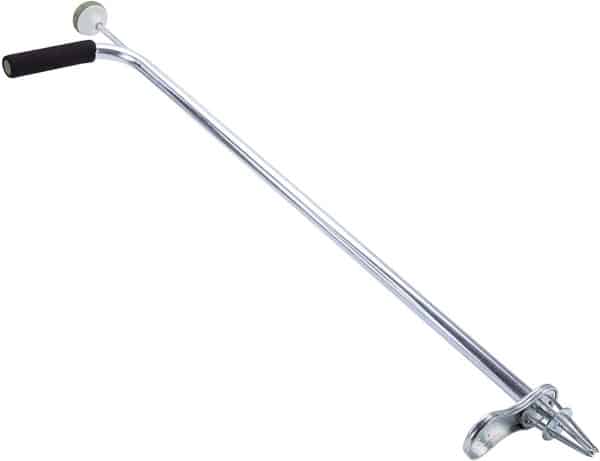 Conclusion
Stand-up weeders keep the ecosystem of the garden stable without killing insects or damaging the soil. They also rescue you from the irksome task of swatting, a body angle that can put a strain on the back. All in all, using a stand-up weeder is easy and you can surely benefit from investing in one.